LAS VEGAS – June 25, 2019 — Pacific Timesheet announces new enhancements to significantly reduce errors and streamline project time tracking for research and development and engineering organizations. Pacific Timesheet, for years a leader in percent allocation timesheets, has now introduced the hours allocation timesheet. Now with both percent and hours allocation timesheets, Pacific Timesheet provides the most comprehensive suite of options for engineering organizations to track project time.
Pacific Timesheet CEO Ronald Kfoury stated, "We've long been focused on providing senior managers tools to understand how engineers are spending their project time. Now by providing percent and hours allocation time tracking we are the undisputed leader in this market space."
Research and development project time tracking requires very different project time tracking tools ̶ that allow users to track their percent time or hours allocations for any time period.
Kfoury continued, "Whether your using percent or hours, using our allocation project timesheets does three things: 1) it dramatically increases user compliance by making it much easier to enter summarized project time allocations, 2) it significantly improves the accuracy of project time reporting and 3) it allows you to more accurately monitor resource allocations over time."
Pacific Timesheet's percent and hours allocation timesheets streamline project time entry in several ways: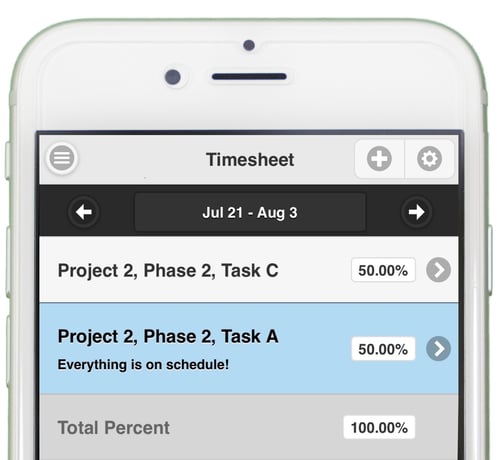 User access is simplified through Single Sign-On tools such as Azure Active Directory, ADFS, Ping Federated, OneLogin, Okta and others.
Project timesheets are created automatically for active engineering users on a scheduled basis for any time periods. These can include weekly, bi-weekly, semi-monthly, monthly, and even custom time periods.
Validation rules ensure that project timesheets are completed with required fields.
The system provides project time monitoring tools through reporting, analytics and dashboards.
Manager approval dashboards make it easy for supervisors to track and approve user timesheets.
Project manager approval dashboards allow project managers to monitor their projects and approve project time.
Program and project office managers can manage overall user project time tracking compliance, approve or reject project timesheets based on completeness.
Automated notices remind users of deadlines to complete and submit project timesheets, and late notices ensure that past due project timesheets are submitted and approved.
With multiple approvals, project timesheets are checked, approved or rejected for corrections.
Finally, all data can be sent to third-party systems like accounting and payroll.
Pacific Timesheet is used by more than 2,000 companies and subsidiaries in industries such as Construction, Field Services, Pharma, Manufacturing and Services that require project time, expense, asset and log management and tracking tools for payroll and accounting. Pacific Timesheet customers include ARB, Boeing, Celgene, Equimidstrans, Fiserv, Florida East Coast Railway, FMC Corporation, Harvard University, Komatsu, Lennox International, Lululemon Athletica,
McKinstry, NEP, N. O. A. A., Novozymes, Turner Construction, and WorleyParsons.

About Pacific Timesheet
Pacific Timesheet is a leading provider of cloud-based time management, expense reports, asset and log tracking applications for construction, field services, manufacturing, services and more than forty other industries. Known for its flexibility, Pacific Timesheet supports any user device, as well as a variety of complex labor, accrual and validation rules that reduce errors and increase the speed of processing data for payroll, costing and billing. Built on platform, database, browser, and app-independent technologies, Pacific Timesheet can be implemented as a cloud service or on-premise. Pacific Timesheet's integrates with more than 300 payroll, accounting and ERP systems, as well as single-sign-on tools such as Azure Active Directory. Using a superior UI and administrative tool sets and system templates, Pacific Timesheet is known for completing highly-customized and scalable implementations must faster than industry averages.