Background
Pacific Timesheet's analytics and reporting engine allows you to easily distribute or "publish" a configured report to various users in your system. A published report is an already-configured report which a user can run to report on data they have access to.
Why is this report publishing feature so powerful?
When you publish reports, you gain three huge benefits:
Cutting the Time/Cost of End-User Training: You don't have to provide extensive end-user training in how to create and maintain custom reports.
Cutting End-User Support Costs: You won't have to support a hodge-podge of many end-user reports that might be poorly configured.
Standardization of User Reports: You will easily be able to standardize reports for certain users (employees, supervisors, project managers, etc.), and the data you want them to stay focused on.
Step 1: Enabling Report Publishing
This is the short but sweet part of this article. It's so simple.
When you create any report make sure you create a custom version of that report. You do this by clicking on the Plus (+) button on the far right of the reporting template name.
After you set the report name, click on the Publishing button, which looks like a small widget with two left pointing arrows.
Then check the security permissions that you want to have access to the this report.
Then when users who have that security permission assigned to their employee profile (e.g. supervisor, timekeeper, etc.) will see a non-editable version of this report with the same name in a box called "Published Reports" at the top of their reports tab page.
The only user report "training" is teaching them how to modify basic report parameters like date range.
Step 2: Setting Up Security Permissions To Provide Users Access to Reporting Data
Publishing a custom report to a security permission is so easy. Creating and designing your security permissions takes a little more thought and care.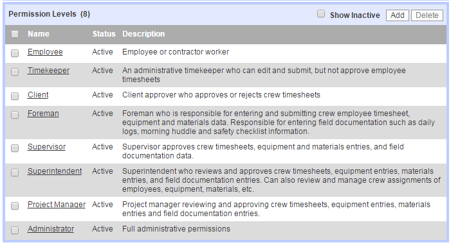 The summary is that each user can have a primary security permission assigned to them in their employee profile. With nothing configured elsewhere in the system, this primary security permission will open the gates and doors these users can go through to view, manage or report on various objects in the system. "Objects" is a fancy name for things like timesheets, employee or group profiles, projects, tasks, etc.
You can create from scratch or clone and modify as many security permissions as you need. However, there are several standard built-in security permissions in Pacific Timesheet customers tend to use:
Employee
Manager
Supervisosr
Project Manager
Foreman
Payroll Manager
Administrator
Step 3: Establish Framework for Publishing Standardized Analytics and Reports
In your system, when you enable access to a security permission to view, manage or report, this will enable users with these permissions to view certain published reports. Published reports fall into a few categories:
Employee or "Self" Reports. When you create any timesheet summary or details report that contains employee as a report column, you have the option to filter that report to "self." You can do this by editing the report, clicking on the plus button and selecting "Self" on the employee filter in the bottom half of the report configuration page. When you publish this report employees it will filter data to show only that employee's timesheet data.
Supervisor or "Approvee" Reports. When you create the same reports with an employee report column you can filter that report to "approvees." By clicking on the plus button of the employee filter and select "Approvees," and publishing the report, supervisors will only see timesheet data for employees they approve.
Project Manager Reports. When you create a report with a project report column you can allow a project manager to see timesheet data for his projects by assigning him to the project profile with the security permission Project Manager. The Project Manager security permission will be setup with "Can Report - Limited" enabled.
Foreman Reports.

When you create a report with a Group or Crew report column you can allow a Foreman to see timesheet data for his Crew by assigning him to the Crew/Group profile with the security permission Foreman. The Foreman security permission will be setup with "Can Report - Limited" enabled.
Wrapping Up
There is tremendous power and simplicity in Pacific Timesheet analytics and reporting. With a clearly defined security permissions framework it's easy to create and publish reports.
Do you have any stories to share about your success in publishing reports? Or do you have any ideas on how report publishing could be improved?