LAS VEGAS – March 15, 2020 -- Pacific Timesheet, the enterprise time, expense, asset and log management tool used by leading companies worldwide, announced today a new enhancement to its time tracking capabilities: Department Timesheets. Pacific Timesheet customers will now be able to have department managers review and approve their department's project hours data in consolidated department timesheets. The tool will allow managers to review and correct entries for a variety of periods.
"Department Timesheets is an exciting development for Pacific Timesheet customers. It's a boon to any research and development organizations that need more advanced approval and correction workflows. For existing customers, the Department Timesheet is a simple module that is easy to enable. For new customers, Department Timesheets are a bullet-proof turn-key solution for department managers to easily review and approve project progress," said Ronald Kfoury, President and CEO of Pacific Timesheet. "Pacific Timesheet, a long-time leader in the project time tracking software for research and development organizations, is pleased to add Department Timesheets to our stable of project management tracking tools."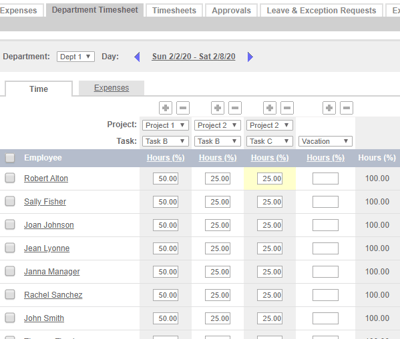 At the core of the Pacific Timesheet's Department Timesheet is an advanced synchronization between individual user project timesheets and their department timesheet:
The Department Timesheet is an extension of Pacific Timesheet's percent allocation and hours summary timesheets designed for research and development organizations. Summary timesheets allow users to enter total percent allocations or hours by project for an entire time period such as weekly or bi-weekly periods.
The Department Timesheet can be used to roll up department employee data into a single department timesheet for editing, submission and approval. Or, a department manager can enter and submit data on behalf of department employees.
The Department Timesheet can immediately be enabled for Pacific Timesheet customers. Department Timesheets are driven by the same configurable template technology as our individual employee timesheets allowing administrators centralized control over all Department Timesheet layouts, rules and workflows.
Department Timesheets are built upon the same platform as individual project timesheets which allows for seamless data synchronization. Individual employee project timesheets synchronize upstream to Department Timesheets and Department Timesheet modifications flow back downstream to individual project timesheets.
Department Timesheets are enabled by existing departmental employee membership features and security permissions for managers.
Department Timesheets are delivered through all major browsers including Chrome, Edge, IE, Safari and Firefox.
About Pacific Timesheet
Pacific Timesheet is a leading provider of cloud-based time management, expense reports, asset and log tracking applications for more than forty other industries. Known for its flexibility, Pacific Timesheet supports any user devices, as well as a variety of complex labor, accrual and validation rules that reduce errors and increase the speed of processing data for payroll, costing and billing. Built on platform, database, browser, and app-independent technologies, Pacific Timesheet can be implemented as a cloud service or on-premise. Pacific Timesheet integrates with more than 300 payroll, accounting and ERP systems, as well as single-sign-on tools such as Azure Active Directory, Ping Identity and OneLogin. Pacific Timesheet is used by more than 2,000 customers such as Ambac, Applied Materials, Australian National Transportation Safety Board, Boeing, Bumi Armada, Celgene, Ceres, Everytown, Equitrans Midstream, Fiserv, Florida East Coast Railway, FMC, Harvard University, ISEC, Komatsu, Lewis Tree Service, lululemon athletica, McKinstry, NEP, N.O.A.A., Novozymes, Rivian Automotive, Sanborn Map Company, Stand for Children, University of Denver, University of Massachusetts, University of Virginia and Worley Parsons.