LAS VEGAS - April 13, 2021 -- Pacific Timesheet, the enterprise time, expense, asset and log management tool used by leading companies worldwide, announced today its new seamless cloud-to-cloud integration with Microsoft Azure Active Directory (Azure AD) for Azure Government. Pacific Timesheet public sector customers can now access their Pacific Timesheet applications using their Azure AD credentials managed in Azure Government. The connection between Azure AD and Pacific Timesheet will allow U.S. government and public sector customers to deploy Pacific Timesheet while complying with IT department cloud security policies..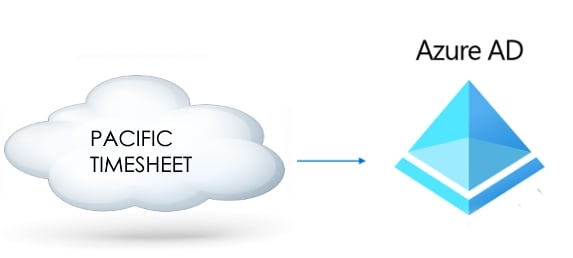 "We are extremely excited to announce that Microsoft Azure Government has certified our integration of Microsoft Azure Active Directory with Pacific Timesheet. This integration is critical to any government or public sector organization that needs to deploy and manage its Pacific Timesheet user-base flexibly and fast. With this Azure AD integration, Pacific Timesheet's government and public sector customers will now have a turn-key single sign-on solution when using Pacific Timesheet," said Ronald Kfoury, President and CEO of Pacific Timesheet. "Pacific Timesheet, is pleased to extend our collaboration further by completing this integration and being certified by Microsoft for its Azure Government. In addition, our government and public sector customers' users will now be able to easily and seamlessly access Pacific Timesheet through the same credentials they use for Microsoft 365."
"We are pleased that Pacific Timesheet now integrates with Microsoft Azure Active Directory for the Microsoft Azure Government, providing single sign-on access to its mobile apps and cloud-based software," said Sue Bohn Partner Director of Program Management, Microsoft. "Streamlined access to apps like Pacific Timesheet is critical to ensuring security and increased productivity."
At the core of the Pacific Timesheet Azure AD integration for Azure Government is streamlined single sign-on access:
The Pacific Timesheet and Azure Active Directory for the Azure Government will immediately enable single sign-on (SSO) for Pacific Timesheet government and public sector customers. What's more, this integration allows system administrators complete control over Pacific Timesheet user authentication and password management.

This Pacific Timesheet Azure AD integration with Azure Government uses Security Assertion Markup Language (SAML) 2.0, a leading authentication protocol that significantly reduces security risks and protects against phishing and other security threats.

The Pacific Timesheet Azure AD integration for Azure Government provides Pacific Timesheet users secure access using their Azure AD credentials on any device. New customers can try Pacific Timesheet's integration with Azure AD integration for Azure Government by connecting with Pacific Timesheet through the Azure AD app gallery for Azure Government.

With the Pacific Timesheet Azure AD integration, admins can surface Pacific Timesheet apps for easy access in end user experiences such as the My Apps portal and on Office.com.
Pacific Timesheet's time, expense and asset tracking tools are used by more thousands of companies and subsidiaries in many industries such as Construction, Field Services, Pharma, Manufacturing and Services. Given that its applications can touch virtually every employee, Azure Active Directory single-sign-on is critical to launching and expanding Pacific Timesheet's applications to its customers' employees. Many leading companies use Pacific Timesheet including Ambac, Applied Materials, Australian National Transportation Safety Board, Boeing, Bristol Myers Squibb, Bumi Armada, Fiserv, Florida East Coast Railway, FMC, Harvard University, ISEC, Komatsu, Lewis Tree Service, lululemon athletica, McKinstry, N.O.A.A., Novozymes, Rivian, University of Virginia and WPPGTS.

About Pacific Timesheet
Pacific Timesheet is a leading provider of mobile and cloud-based time tracking, expense reports, asset and log tracking applications for construction, field services, manufacturing, services, governments, non-profits and more than forty industries. Known for its flexibility, Pacific Timesheet supports any user device, as well as a variety of complex labor and leave rules that reduce errors and increase the speed of processing data for payroll, costing and billing. Built on platform, database, mobile and browser-independent technologies, Pacific Timesheet can be implemented as a cloud service or on-premise. Pacific Timesheet's connects with more than 300 payroll, accounting and ERP systems, as well as single-sign-on tools such as Microsoft's Azure Active Directory for government and public sector organizations, which allows its customers to rapidly deploy and scale its applications.