Whacky Technology Ideas That Cannot Even Be Called Silly
As a visiting scholar at Pacific Timesheet, I recently completed a research study: "Whacky Technology Ideas That Cannot Even Be Called Silly." Though it was not my intention, it is really a tribute to how great Steve Jobs really was, by surveying the thousands of bad ideas and new product road kill created by other lesser brains during the Age of Steve (1979 – 2011). The study included a way to watch TV with an inhaler (don't ask), a new kind of ethanol you could manufacture from old bed sheets, and force-field furniture for people who move a lot and have no friends. However, my favorite example of a failed technology product was "The Data Hat."

The Data Hat Origins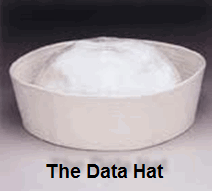 The Data Hat was developed in Silicon Valley, where "prima donna engineers," as they are called, outnumber all living things by 100:1. The product's history began in 2002 when the senior managers of BBS LLC (Big Biolife Stuff) and RTC, Inc. (Really Tiny Chips) got stuck in an elevator in the San Jose Convention Center during the rolling blackout season. After arguing why no one thought to take the stairs when there were only two floors, they began "sharing" about their biggest business problems. Jim Parker, RTC CTO, said "I wish we knew what our best engineers were working on." Joshua Chen, Chief Information Officer of BBS, finally admitted that "many of our engineers won't reveal much beyond their employee ID number, like they're a POW or something." Staring blankly into the elevator floor buttons panel, Jim Parker interjected: "If only we could get them to fill out timesheets." Everyone was aghast. The smallest smile started to curl at the corner of Jim's mouth and Joshua said with a growing laugh, "You joker, you know that'll never happen." They laughed for an hour. All of this led to nothing for these companies, but there was a courier in the elevator car who, overhearing everything, told his neuro-engineer cousin Billy Tendra of the need to solve this problem.