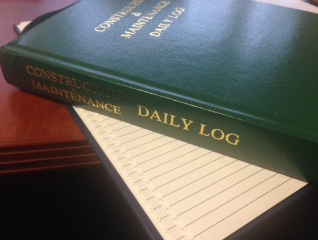 A supervisor, or foremen, is the crew leader on a construction jobsite. It's up to him to plan, organize, and direct work in a safe, and timely, manner. All supervisors will experience conflict at some point, as well as safety violations and workplace injuries. By keeping a daily record of all activities, your construction site supervisor can protect your business from arbitration and/or litigation.
What is a Daily Log?
The daily log is a book, or software program, into which a supervisor records the day's activities. Record keeping helps ensure project organization, as well as keeps tabs on day-to-day employee happenings. The daily log is essential because it keeps a consistent record, which could be useful if you're ever sued, and need to prove that your workers performed a safety inspection, or conflict was handled immediately and efficiently.
Daily log sections include:
Date
Times of incidents
Work performed
Safety topics
Problems and delays
Employee conflict
Equipment usage
Materials purchased
General management
What is an Incident Report?
In order to understand the incident report, you'll first need to understand what constitutes an incident. There are two types of events that are considered "incidents."
1. An event that resulted in an injury. For example: An employee is handling materials and suffers a cut to the finger.
2. An event that resulted in a near-miss, otherwise known as an event that almost resulted in injury or damage. For example: An employee is handling materials and almost suffers a cut to the finger.
It's important to report these incidents, as this report will keep a record, and help prevent future incidents from occurring. Moreover, incident reporting may protect your company from litigation. Imagine if an employee attempts to seek compensation for a minor incident, such as a scratch. The incident report can prove minor injuries, and thus put a stop to compensation fraud. Likewise, the incident report would include any information regarding the circumstance of an injury, or a near-miss, so if the employee was not following safety regulations this would be noted.
Daily Logs Ensure Effective Jobsite Supervision
Jobsites are typically limited to the manpower needed. Unlike the office, there aren't supervisors managing supervisors. The jobsite supervisor is typically all on his own. He needs to protect himself by keeping a daily log. This ensures that a record is kept of all conflicts, incidents, as well as records of day-to-day activities. If a supervisor can prove that he's consistently kept a detailed daily log, it should hold up in court, as well as with customers and business owners.
If you are interested in learning more about how to automate construction foremen and supervisor logs, of any type, Pacific Timesheet has comprehensive cloud-based solutions.