Recent Posts

"Follow" the features you want and get notified on what you're interested in
We think our customer knowledgebase is great!
Read More
Topics: follow help center updates
When comments get filed away...
Here's a scenario: Your boss comes by your desk at 5 pm Friday afternoon. "What problems did we have with Client X last year? I really need to know that for my Monday meeting." There goes your fishing trip this weekend.
You scratch your head and think about your records, project timesheets stored in boxes under your desk. You start thinking about the fact that a secondary use of paper timesheets is to record notes and comments on projects and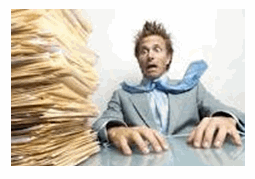 activities. But you did not keep many notes this way. "Why didn't I record notes on my timesheet?" you're thinking. Well, here's the answer. Due to limited space on your paper timesheets, your comments have been related only to timesheet adjustments, not to flag major issues. "Why's that?" you wonder. Well first, there is not enough room. Second, paper timesheets are usually filed away and are not easily searchable. Thus proving the principle: if you can't do it easily you don't do it. In this case, you did not enter important comments about your client projects on your timesheets, because it was difficult to do.
But there's another reason you did not do it? Really, another reason? Yes, another reason! You knew the comments would be nearly impossible to search at a later date, so you did not bother to record anything important on the timesheet. "Oh I get it!," you now realize, "why bother recording notes if you or another colleague cannot find them easily." You won't have time to search through fifty weekly timesheets for last year to get an answer about that client account for your boss's Monday meeting. But now you will make time and cancel your fishing trip.
Read More
Topics: Time Off Management, timesheet, Timesheet Software, Time Tracking Software, SaaS Timesheet, Online Timesheet, Web TimeSheet, Time and Attendance Software, Crew Timesheet
A new version of Pacific Timesheet is now available, version 6.69. This version has several features you should know about:
Bill Rates, Pay Rates Now Can Be Imported/Exported
If your bill or pay rates depend primarily on the employee, you can now import/export them from the menu above the employee list on the Employees tab. Both the default rates as well as the exception rates are imported/exported.
New Timesheet and Leave Request Status Filters
When listing timesheets and leave requests on the Timesheets, Approvals or Leave Requests tabs, you can now choose from two new status filters: "Approved (All Levels)" and "Approved (Any Level)". This applies only if you have multiple approval levels enabled (System > General page). Previously there was just the "Approved" status filter, which behaved the same as the new "Approved (All Levels)" status filter.
Unapproving Leave Requests Now Removes Leave From Timesheet
This applies to employee policies that are set to automatically put approved leave request hours onto the timesheet (see the System > Policies > Schedule Rules page). In previous versions, if you approved a leave request it would then place the hours onto the employee's timesheet. If you subsequently unapproved, rejected or deleted the request the hours would remain on the timesheet. This version will automatically remove the leave hours from the timesheet if they were placed there by the request approval process.
You can see all of the changes here:
www.pacifictimesheet.com/timesheet_support/pacific_timesheet_release_notes.htm
Read More
Topics: Time Off Management, timesheet, Timesheet Software, Time Tracking Software, SaaS Timesheet, Online Timesheet, Web TimeSheet, Time and Attendance Software, Crew Timesheet