"Follow" the features you want and get notified on what you're interested in
We think our customer knowledgebase is great!
But for you, the busy system system administrator, staying up-to-date on features and fixes is not easy.
Welcome to the Holy Grail, the Shangri-La of staying updated:
Start "Following" developments in our product features and fixes and automatically get notified on what matters to you.
First, let's review the basics.
Search
Our new Help Center allows you to search for solutions to questions or issues you have anytime. Just go to the
Help Center
:

Just start typing in the search box on the main page. As you type, the most relevant articles start to show up in a suggestion list.
Browse and Follow Categories, Articles
You can also browse categories to find helpful articles, and when you find an interesting category or article you can …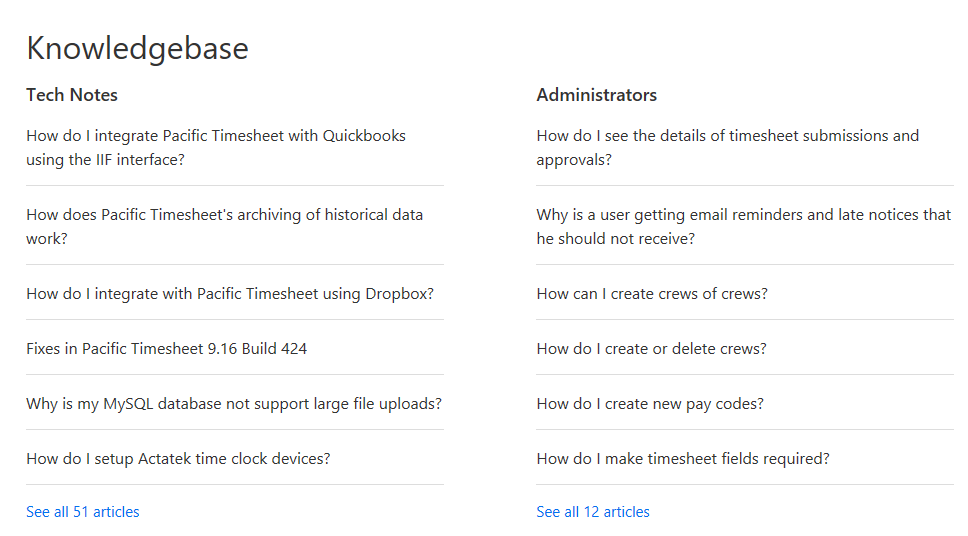 Follow Categories
Now you can "follow" various categories of special interest to you.
For a Category, such as Tech Notes, you can get an email notice when there is a new tech note or an update to an old one.
Click on Tech Notes
Then click on the Follow button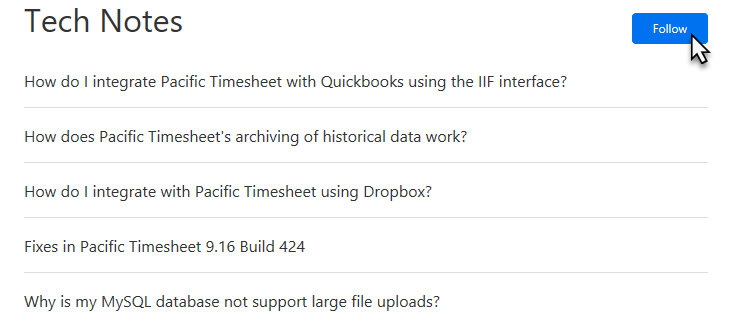 Become a Registered User

If you are not a registered user, you just need to register your contact information one time.
Click on Sign In in the upper right, then where it says:
New to Pacific Timesheet? Sign up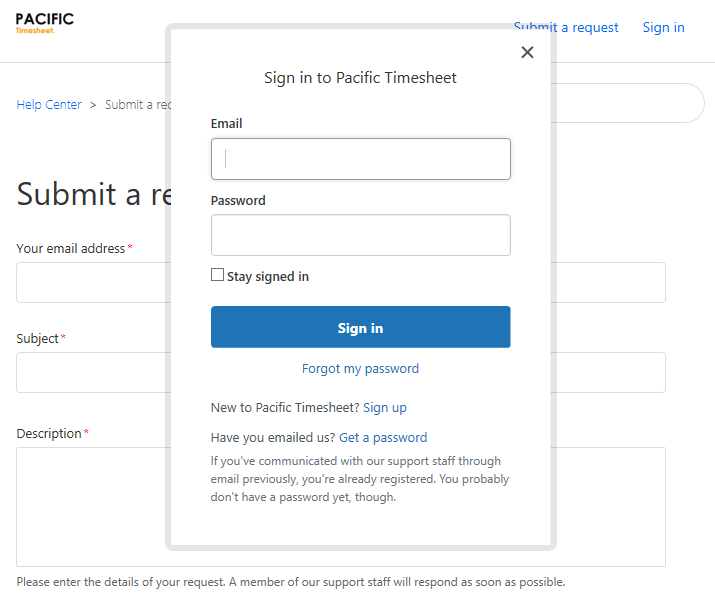 …just fill in your information and you're done.
Following Articles
Following an important article means you will get an email notice whenever an update to that article is made.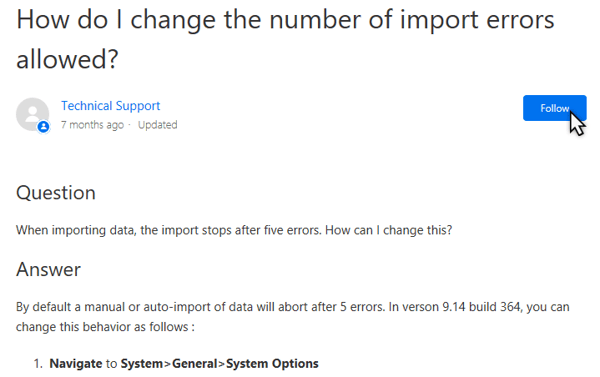 For example, you could follow the article "How do I change the number of import errors allowed"
https://pacifictimesheet.zendesk.com/hc/en-us/articles/360000066211-How-do-I-change-the-number-of-import-errors-allowed-
In this article, we detail a new setting that allows you to increase the number of errors for imports or auto-imports before the import is stopped or considered "failed" because of too many errors. If you have a third-party system that is sending data with errors, you probably want to follow this article, add comments or questions to it, and receive updates as it's modified over time with new tips or additional enhancements.
Adding Comments to Articles
To add comments and questions to help center articles, log in, and then just enter your comments or questions into the comments box and click submit.


Submit Requests
In the upper right, click on Submit a Request to submit a request such as a case, question or product request.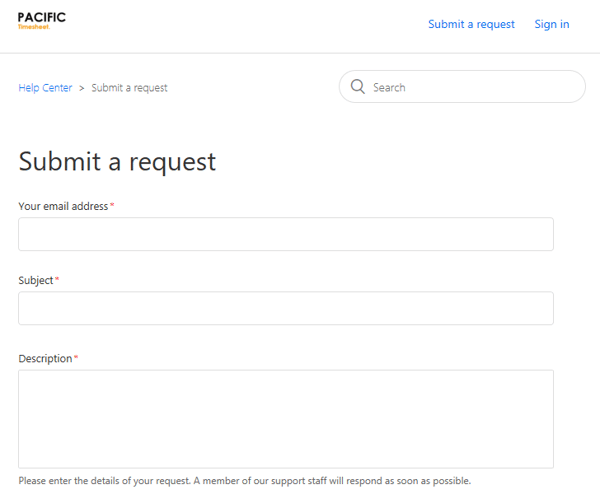 You can also attach a relevant screen shot, whether it's an unexpected behavior or a mock-up of a new solution you need.
Monitor Everything with My Activities
Remember, you can view the status of all your activities anytime. Just click on your account name in the upper right:
Click on View My Activities to see:
Requests
Contributions such as comments you've made for articles, and
Following (categories and articles you are following)
The Learning Center Blog
The Learning Center Blog lives on and has an important mission: to provide you with articles on large topics like this article:
https://blog.pacifictimesheet.com/learning-center-blog/pacific-crew-mobile-app-released
…with links to specific help center articles like:
https://pacifictimesheet.zendesk.com/hc/en-us/articles/360003213411-Pacific-Crew-Tutorial
If you have any questions, suggestions or feedback, you can add comments to any articles and we'll respond with an answer or suggested solution.
Just go Help Center now, setup your account, login and get started.