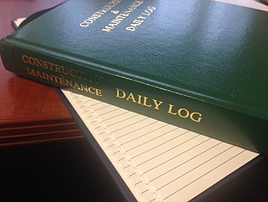 Foreman logs or supervisor diaries and foreman log books are guarded more than a little black book. These supervisor logs hold every note you make over the course of a work day. Your recorded employee attendance, material shortages, safety hazards and multiple lists of things that must be done to get the job completed. They can also be used to track checklists from daily huddles. The problem is your notes grow by the day and carrying an encyclopedia around just makes your job harder.
Easy access to your daily foreman logs
Have a nice little paper notebook is great for jotting down quick reminders. However, this is not the most reliable and convenient way to track everything that occurs in a work day. You may not have a fancy office with access to a PC, but this does not have to stop you from making use of technology. You can access your foreman logs anytime and anywhere from a tablet or Smartphone. Multiple features include:
Timesheets and time off requests
Record material deliveries as they arrive
Incident reports
Expenses and petty cash
Job change requests and approvals
Construction log books and security
You do not want your job data to get into the wrong hands, or become lost or damaged. Unfortunately, it is easy to accidentally leave your supervisor diary in the wrong place or unattended. Nothing will prevent an unauthorized person from gaining access to the information you have written. Cloud storage for your data is very secure where only authorized users have access to your records.
When hardcover foreman log books get lost, they are lost forever. How much time will it take you to duplicate the content, even if you can? Storing your records online provides you with the security of having all of your data backed up and readily available.
Finally, job sites are not the cleanest or safest places for paper notebooks. The spilled cup of coffee can ruin days' worth of notes. An accidental spark from a welding operation can permanently destroy your log book. While you can just as easily destroy a laptop or Smartphone, the data stored in the cloud will always be there.
Supervisor logs will allow you to keep track of everything, without compromising data security. You can quickly sort the information you need and share data with anyone you choose. Using the available technology provides you with the time saving features you want and the security you need.
You can learn more cloud-based log solutions, like Pacific Timesheet's, that can store your log information in the cloud.
Photo Credits:
http://vishal--mishra.blogspot.com/2012/09/information-security-study-material.htm