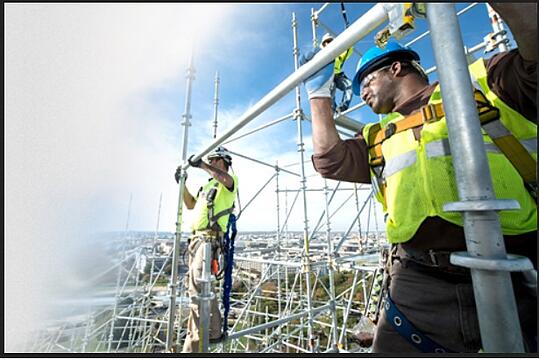 OSHA's top 10 cited violations for 2014 won't surprise you if you work in construction, field services or manufacturing sectors. They consistently keep recurring year after year. However, there has been significant drop year over year in the total number of worker fatalties. If

According to OSHA, overall, before the ganization was created 43 years ago, about 14,000 worker fatalities occurred each year in the United States. Daily worker fatalities have since fallen from 38 to 20 per day.
Now, if you had to guess which violations remain at the top of the list, which would they be?
Falls
If you said protection from falls, you got the number one cited violation. For construction sites, the leading cause of worker death was falls. Falls are defined in fall prevention and safety as falling from a height of at least six feet. About 294 workers died during the same year from falls, and that is just in the construction industry. Over a ten year period, there were 3,000 worker deaths from falls.

This number is more than double if you factor in slips and trips with falls: 699. Slips and trips are defined as falls that can occur not from a specified height, but rather a slip or trip causes a worker to fall to the ground while walking.

Slipping and tripping on work sites have a great deal to do with safety and prevention rules compliance.

While OSHA does include slipping and tripping in fall protection guidelines, 1926.501(b)(4)(ii) of 1926.501
"Each employee on a walking/working surface shall be protected from tripping in or stepping into or through holes (including skylights) by covers." The fall protection guidelines don't appear to specifically mention slipping but, overall OSHA's view is that employers are responsble for employee safety, "Workers have a right to a safe workplace. The law requires employers to provide their employees with working conditions that are free of known dangers.

The OSHA law also prohibits employers from retaliating against employees for exercising their rights under the law (including the right to raise a health and safety concern or report an injury)."

OSHA's rules on fall protection are not the end all and be all of a worker or site safety program. It's a minimum framework that all programs should meet, and probably do a lot more to create and manage processes to limit and reduce work site injuries and incidents.
Injuries





We mentioned the number of worker deaths, but how many workers injuries would you guess occurred in 2013?

3 million.

To dig a little deeper, about 80% of non-fatal work injuries among construction workerrs that are treated in emergency rooms are associated with ladders.

OSHA actually has a guide to Ladder and Stairway Rules and it is a helpful document. Again, a good safety program would procedures and proper training to minimize injuries.


Hazard Communication
The second most cited violation is hazard communication.

Part of an OSHA rule reads,

"The purpose of this section is to ensure that the hazards of all chemicals produced or imported are classified, and that information concerning the classified hazards is transmitted to employers and employees. The requirements of this section are intended to be consistent with the provisions of the United Nations Globally Harmonized System of Classification and Labelling of Chemicals (GHS), Revision 3. The transmittal of information is to be accomplished by means of comprehensive hazard communication programs, which are to include container labeling and other forms of warning, safety data sheets and employee training."

Many accidents and injuries can result from a failure to communicate known common hazards from the movement and handling of certain materials, equipment and performing certain activites. For example, there can be improper handling of dangerous chemicals. Eye injuries can be common in these cases.
An OSHA fact sheets says,
"Every day an estimated 1,000 eye injuries occur in American workplaces. The financial cost of these injuries is enormous--more than $300 million per year in lost production time, medical expenses, and workers compensation. No dollar figure can adequately reflect the personal toll these accidents take on the injured workers."

Of course, the most obvious protection for eye injuries is wearing eye protection. However, the main cause of these types of injuries is often failed hazard communications.
The Top Ten List of the Most Cited OSHA Violations
So here is the top ten OSHA list.
Fall Protection

Hazard Communication

Scaffolding

Respiratory Protection

Powered Industrial Trucks

Lockout/Tagout

Ladders

Electrical, Wiring Methods

Machine Guarding

Electrical, General Requirements
Many of these items relate to incidents that are not mutually exclusive. Violations of inadequate,unsafe or poorly used fall protection, scaffolding, ladders of course all can drive more injuries and deaths from falls. Poor training and communication on the proper use of materials and equipment drive the rest of the list. For example, poor lockout/tagout procedures can lead worker or contractor injuries when they dangerously turn on or use equipment that is still under repair.
Safety Culture


While OSHA regulations are important, they are really just a starting point.

A robust safety program has comprehensive policies, training, and work practices that not only help you comply with OSHA regulations, but systematically reduce the risk of injuries and incidents by creating safe work environments. It also creates an approach and framework that allows you to continually improve your safety performance.
For example, one increasingly popular process are regular morning huddles where crews assemble to communicate the work for the day, hazards to avoid and safety procedures to emphasize. Morning Huddles are a technique that brings special focus to each day's work as unique, not routine, with special or possibly quite different requirements from the day before. Crews and workers on "auto-pilot" who "know" their job can be more likely to make mistakes that cause injuries.
Making safety a major part of your culture is critical.
OSHA writes about this:
"In a strong safety culture, everyone feels responsible for safety and pursues it on a daily basis; employees go beyond 'the call of duty" to identify unsafe conditions and behaviors, and intervene to correct them. For instance, in a strong safety culture any worker would feel comfortable walking up to the plant manager or CEO and reminding him or her to wear safety glasses. This type of behavior would not be viewed as forward or over-zealous but would be valued by the organization and rewarded. Likewise coworkers routinely look out for one another and point out unsafe behaviors to each other."
Of course, safety culture, as many of the more successful safety programs have demonstrated, is more than wearing safety goggles and hard hats.
Safety ROI
There are important business reasons to implement a culture of safety. In many cases, there is a proven return-on-investment for doing so, Rich Widdowson, Schneider Electric's vice president of safety, environment and real estate said his company 900 fewer people injured in 2013 than ten years before.
In addition, Schneider Electric saved more than $15 million.
Keystone Habits and the Ripple Effect
One of the famous safety cases is Alcoa Steel. CEO Paul O'Neil began to first focus on employee safety, even though doing do so initially required an upfront investment. Alcoa financial performance was poor when O'Neil started in 1987. During his tenure Alcoa's value went from $3 billion to $27.53 billion, and net profits went from $200 million to $1.484 billion. At first, many questioned his focus on safety rather than a more conventional metric like costs or productivity, One of the company's most important metric "lost work days to injury fell from 1.86 lost workdays to injury per 100 workers to 0.2 through his ten years in charge. A whopping 90% reduction!
And twelve years after O'Neill retired as Chairman and CEO, the rate continued to falling to 0.125. Proving that O'Neill and his team truly had created a lasting new culture of safety. "Surprisingly, that impact extended beyond worker health. One year after O'Neill's speech, the company's profits hit a record high. Writer Charles Duhigg referred to this strategy as focusing intensely on one "Keystone Habit" that "rippled through the whole culture. "

In the end, O'Neill and team insisting on on worker safety and preventing injuries helped create a more positive work environment overall, which boosted organizational performance.
Of course, there are now many examples of companies created a culture of safety. In 2014, EHS listed the following companies as the safest operating in U.S.:
Do you have safety success stories you can share?

Image Credits: OSHA.gov